Youth PCC relationship teacher Robert Burgess off work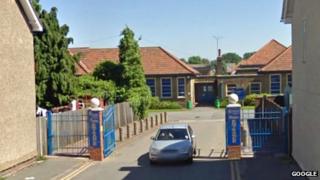 A former councillor whose relationship with Kent's youth police commissioner is being investigated has been signed off sick from his teaching job.
Last week married 50-year-old Robert Burgess admitted he had a relationship with Kerry Boyd, 20, but described it as being "just close friends".
The principal of Castle Community College in Deal said he had been "signed off for unrelated issues".
The office of PCC Ann Barnes is investigating the relationship.
Mrs Barnes, who appointed Ms Boyd and created the youth commissioner role herself, has said it is not possible for her to discuss the reports but said Ms Boyd was being supported.
Mr Burgess has worked as a teacher and a youth leader in the past and was a Conservative county councillor until last year.
It is understood he acted as a referee when Miss Boyd was appointed to the role of youth commissioner and that the investigation is looking at whether she disclosed the extent or nature of the relationship.
Interim college principal Jane Hadlow said: "We are able to reassure everyone that the school as always is working with all relevant agencies and all appropriate actions are being taken, and that there are no indications that children are at risk."