Kent schools liaison police officers replaced with PCSOs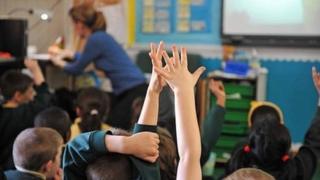 Schools liaison police officers are to be replaced by police community support officers (PCSOs) in Kent, the BBC has learned.
The 12 officers were introduced after the murder of London head-teacher Philip Lawrence in 1995.
One of their key roles has been helping schools and pupils in dealing with online threats.
Kent Police said schools now have extra powers to deal with incidents themselves.
Mr Lawrence, 48, was stabbed through the heart in December 1995, by then 15-year-old Learco Chindamo outside St George's School in Maida Vale, north west London.
'Absolute travesty'
He had gone to the aid of a 13-year-old boy who was being attacked. Chindamo, now 33, was later convicted of his murder.
Mark Jones, deputy head of Heath Farm School in Charing, near Ashford, told BBC Radio Kent: "The police liaison officer was available at the end of the phone to turn up when we needed her to."
He said he believed that many incidents have been adverted thanks to the officers, and that children have learned to trust the police, leading to fewer young people in trouble or causing trouble.
"The school liaison part just won't be fulfilled because it won't be prioritised at an early intervention level," he said.
Martin Carter, an e-safety expert and former Kent Police youth crime reduction officer, said: "I think it's an absolute travesty that Kent are now naively thinking of taking this role away.
"Hampshire did this a few years ago and within two years they reinstated them."
Kent Police said in a statement: "The situation has changed considerably since the murder of Philip Lawrence.
"Schools now have extra powers to deal with incidents themselves, and neighbourhood policing, which did not exist back then, is now widespread."