Canterbury Pilgrims Hospice closure plans on hold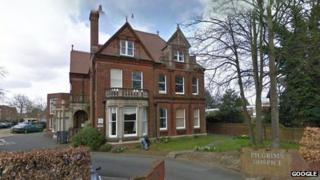 A charity has put plans to close hospice beds on hold after an "angry" response at a public meeting.
Pilgrims Hospice previously said it wanted to close its Canterbury inpatient ward and offer care in patients' homes and hospitals.
The charity said it had also postponed two public meetings planned in Margate and Ashford next week.
The head of charity's board said it had become "painfully aware" of the views of the hospice's supporters.
Dr Richard Morey, the head of the charity's board of trustees, said: "We are becoming painfully aware of how our incredibly loyal supporters feel about the future hospice programme and we want them all to know that we are revisiting the proposed programme."
About 500 people attended a public meeting on 30 May but a number then walked out saying they were "disgusted" and "angry" because the decision to close the inpatient ward appeared to have been made without consultation.
The charity said it was taking the decision after being alerted to a campaign on Facebook.
'Vital resource'
Dr Morey said: "The trustees and myself have been reading letters full of heartfelt concern from our supporters and we have been alerted to the Facebook campaign and petition, all of which has prompted us to take immediate action."
Posting on Facebook, Leslie Flippence said: "As it should be. This is a vital resource in the community.
"So many brave people have passed through this facility and the families that it supports will struggle to find a more compassionate organisation anywhere."
The charity, which receives 75% of its funding from the community, has an annual £1m deficit.
It has purpose-built hospices in Ashford and Thanet but the Canterbury building is said to be no longer fit for purpose.