Denby Collins: Parents 'lose confidence' in coma man inquiry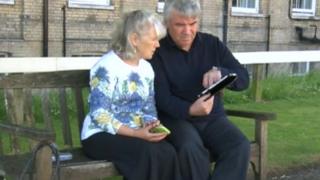 The parents of a man who remains in a coma six months after being arrested say they have lost confidence in Kent Police's handling of the case.
Denby Collins, 38, was held as a suspected burglar by police called to a house in Gillingham on 15 December.
The Independent Police Complaints Commission (IPCC) is examining the use of force by officers who carried out the arrest in Lower Rainham Road.
Kent Police said it was co-operating with the IPCC investigation.
'Robust investigation'
Mr Collins was being restrained by at least one resident of the house when police arrived.
He was placed under arrest and handcuffed but then found to be unresponsive, according to the IPCC.
He was taken to Medway Maritime Hospital by ambulance and last month was transferred to the Royal Hospital for Neuro-disability in Putney, where he remains in a hypoxic coma.
The IPCC has said Kent Police will be allowed to investigate other aspects of the case themselves.
But the family's lawyer Daniel Machover said they had no confidence in the force's ability to look into what happened.
"What they did just doesn't seem to match anything resembling a thorough, proper, robust criminal investigation," he said.
He added the family wanted anyone with information to come forward.
Mr Collins' father Peter said he and his wife Janet believe their son knew some of the people at the house in Gillingham through his work at a music venue.
"There were a number of young men there in their 20s and they probably would have frequented this pub as well," he said.
"Our son used to do disco work and he was probably quite well known.
"I think there is a good likelihood these people would have known him."
Mrs Collins said the couple just wanted justice.
"You wake up in the night thinking about it all the time. It's difficult," she said.
Kent Police said it was co-operating with the IPCC investigation and that it would be inappropriate to comment any further at this stage.