Kent youth PCC Kerry Boyd relationship investigated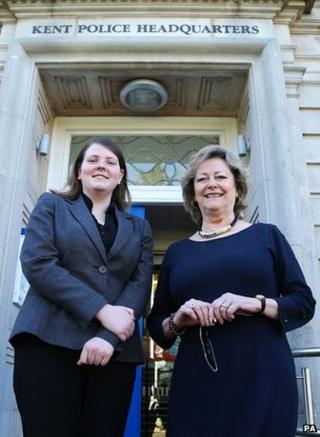 The youth police and crime commissioner for Kent is doing no public engagements while reports of a relationship with a 50-year old man are being investigated.
The Sun said Kerry Boyd, 20, had a relationship with ex-county councillor and youth leader Robert Burgess.
Mr Burgess told BBC Radio Kent he and Miss Boyd had been "good friends".
PCC Ann Barnes said Miss Boyd was being supported but a Kent Police and Crime Panel member has said Mrs Barnes should consider her own position.
Miss Boyd was appointed to the post by Mrs Barnes in March, succeeding Paris Brown who resigned over comments she had posted on Twitter.
Mr Burgess is understood to have acted as a referee for Miss Boyd's role.
BBC reporter Piers Hopkirk said the questions for Mrs Barnes were what was the nature of the relationship, and did Miss Boyd disclose the information.
Councillor Tony Martin, from the panel, said: "The general worry I have got is that it's not the first time it has happened with Ann Barnes. We were assured last time that this would not happen again.
"I do think she should be considering her position and I am sure she will be looking at herself very closely but I am very conscious of the fact I have not heard her side of the story."
'We are concerned'
Mrs Barnes said: "Kerry is going through a very difficult time at the moment and we are giving all the support that we can."
In an earlier statement, her office said: "We are concerned that Kerry did not feel able to disclose the full extent of her personal circumstances earlier, but as further enquiries are taking place it would be inappropriate for us to comment further."
Mr Burgess told the BBC he and Miss Boyd were "good friends" but refused to comment any further.
Miss Boyd was not immediately available for comment.
The post, created by Mrs Barnes, is not compulsory and other counties do not have youth commissioners.
When Miss Boyd was appointed Mrs Barnes said her social media activities had been vetted.
Miss Boyd, from Margate, a former head girl of Hartsdown Academy and a London 2012 Olympic Torchbearer, was 19 when she was chosen as the £15,000-a-year youth commissioner.
Mr Burgess was a Conservative councillor for Margate West on Kent County Council between 2005 and 2013, and chairman of Thanet's Youth Advisory Group. He also taught at Hartsdown and Sandwich Technology Schools until 2001.
'Worrying trend'
Last week Mrs Barnes was described as making Kent Police a "laughing stock" after the Channel 4 programme Meet the Police Commissioner, which Ian Pointon, chairman of Kent Police Federation, described as "a disaster from start to finish".
Mrs Barnes said she would be discussing the programme with the police and crime panel at a meeting on Thursday.
It has emerged that the PCC suggested sending her chief of staff Mike Stepney to answer questions over her appearance in the documentary at the meeting because she had booked a holiday.
A spokeswoman for Mrs Barnes confirmed she had been due to go on holiday at the time of the meeting. She said the date had been set without consulting the office but that Mrs Barnes had moved her holiday so she could be there.
Speaking about Miss Boyd's position, Mr Martin said: "No doubt we will get some legal advice as to whether we can question her (Mrs Barnes) on it but I would expect members to be briefed tomorrow on exactly what has happened.
"It's something on the back of an unflattering TV documentary last week which is reinforcing the lack of focus and detail in the office.
"That's a worrying trend."
Lynne Beaumont, a Liberal Democrat Shepway district councillor, said: "The last thing in the world Ann Barnes should do is resign because she knows her job inside out and cares passionately about Kent and the people of Kent."