Coxheath village holds 'world custard pie contest'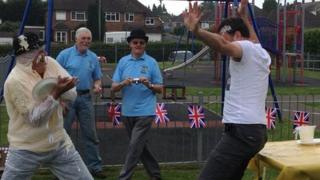 A championship with a difference has taken place in Kent where teams were fighting to take the crown in custard pie throwing.
The World Custard Pie Championships in Coxheath saw teams of four competing against each other.
The contest is held each year to raise money for charity.
Founder of the competition, Mike Fitzgerald, said teams from as far afield as Japan, America, Canada and Holland had taken part over the years.
This year, 14 teams were taking part but none came from abroad.
'Secret recipe'
One of the organisers, Brian Mortimer, said each player would receive six points for hitting an opponent in the face, three if they hit them on the chest, and one if they got them on the arm.
He said anyone who missed three times would have points deducted.
A team of accountants were acting as independent judges, he added.
The custard pies are based on flour and water and are similar to a pancake batter but the recipe is a closely-guarded secret, he said.
"If we tell you the recipe, the actual formula, we'd have to kill you," he joked.
Information on the championship website said the contest, initially inspired by actor, comedian and pie-thrower Charlie Chaplin, began in 1967 and was held for many years before it disbanded and returned in 2007.
It said many countries had replicated the event over the years.