Yalding 'unhelpful' flood warning areas redrawn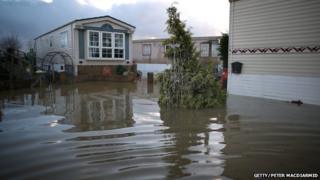 Flood warning areas covering Yalding have been redrawn after residents whose homes ended up underwater this winter said the alert system was unhelpful.
The Environment Agency said the old warning areas were based on rivers and tributaries but the new areas would focus on communities affected.
Yalding can flood from three River Medway tributaries and people were receiving alerts for all three.
Under the new system, residents will get one alert when they are at risk.
A spokesman for the agency said the Medway catchment area was complicated.
He said: "The Yalding floods are from all three tributaries and any one can flood - and does flood.
"Previously flood warnings were drawn around the rivers and showed the hydrological flood risk, so Medway had three warnings. It worked for us but people said it didn't make a great deal of sense.
"We are changing the areas so the system will be delivered in an easier way."
He said the Environment Agency changed its flood warning areas periodically when it received new information.
"On the back of a major flood, we're saying 'we recognise it didn't work for you'. We'll get something done as soon as we can," he said.
On Saturday, residents were being shown the redrawn flood warning areas at an exhibition at Yalding Village Hall.
The event, to offer flood victims specialist advice and support, was being hosted by the National Flood Forum for all communities in Maidstone borough.
Representatives of the flood forum, Environment Agency, Maidstone council and UK Power Networks were all attending the event.