Canterbury worshippers' permits 'breach Equality Act'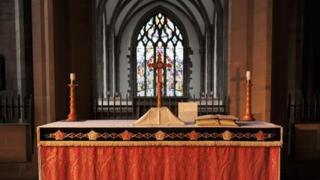 Cut-price parking for worshippers in Canterbury is likely to be altered to avoid a potential legal challenge.
People were able to apply for a £30 worshippers' permit which allows parking without charge during church services for regular attendees.
Keith Porteous Wood, from the National Secular Society, thinks the permits violate the Equality Act.
A new permit for bodies that make a voluntary contribution is now set to be introduced.
Mr Porteous Wood said: "It's inappropriate for people to get free parking just because they go to church compared with, for example, someone who's just got half a day off to go and do food shopping if they're looking after an elderly relative or indeed children."
'Cultural centre'
But Canon Noelle Hall, vicar of St Martin's and St Paul's said churchgoers may decide to worship elsewhere or deduct the amount from what they would normally give to the church.
Peter Vickery-Jones, Canterbury City Council's executive member for transport, said the issuing of new permits had been frozen until April next year.
The authority is looking at bringing in a new permit for bodies that make a voluntary contribution to the community, valid for three hours a week at a nominated car park
Mr Vickery-Jones said: "We had an enormous amount of people saying that we are the Anglican cultural centre of the Christian church in the world and therefore, what is wrong with showing that we have a commitment towards the Christian ethos?
"Under the Equality Act is seems to me that it would be reasonable to adopt an approach which makes it available to everyone who does work in the community."
The plans are due to be considered in the coming weeks.