Ann Barnes criticised for 'ill-advised' TV documentary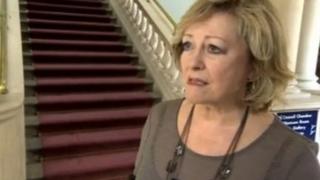 Kent Police and Crime Commissioner Ann Barnes' decision to take part in a TV documentary about her job has been called "ill-advised".
The vice-chairman of the body which scrutinises the PCC's role said the Channel 4 programme was "a gimmick" and showed the inexperience of Ms Barnes.
"This does not reflect the professionalism of Kent Police," said Rupert Turpin.
Ms Barnes said she agreed to appear to be open and transparent.
Tour bus
Three clips from the Cutting Edge show, due to be broadcast next week, have been published on the Channel 4 website.
In them, Ms Barnes discusses her role and the responsibilities of the PCC, her purchase of a £15,000 "tour bus" and the priorities given to different aspects of policing in Kent.
Ms Barnes was criticised last year after she appointed teenager Paris Brown as Kent's first youth commissioner.
Ms Brown later resigned over comments she had posted on Twitter.
Warts and all
Mr Turpin, who sits on Kent Police and Crime Panel, said the documentary was a similar "media fiasco".
"From what I have seen it was extremely ill-advised to do a warts-and-all documentary because these are new posts and it is never going to come out well," he said.
"The documentary shows that she doesn't have a strong grasp of detail and brings the whole force into disrepute."
Ms Barnes said in a statement she would like people to make their own minds up after seeing the whole programme.
"When I was approached with the idea to do this documentary I gave it very careful thought," she said.
"I finally agreed because I have vowed to be open and transparent about my job as Kent Police and Crime Commissioner.
"It's a shame that after four months of filming, so much has ended up on the cutting room floor and the result is a mere snapshot of my working life."
Channel 4 said: "Ann Barnes has viewed the whole programme prior to transmission and was satisfied that it was fair and accurate."
It said the documentary gave an insight into the role of PCC and "a unique perspective on policing in modern Britain".