Kent firefighters spend night tackling blazes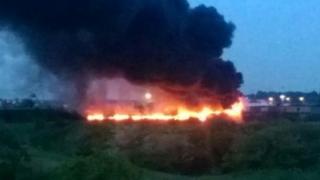 Firefighters from Kent have spent the night battling blazes that broke out in the county and London.
Residents had to be evacuated from their homes after a fire broke out in an industrial unit in Tunbridge Wells.
Forty firefighters tackled the blaze, which started in Park Road at about 20:30 BST. The derelict building was completely destroyed.
Meanwhile, 70 firefighters from Kent and London tackled a scrap and tyre fire in Erith, south-east London.
The blaze, which broke out in Ray Lamb Way just after 18:30 BST, created thick black smoke which could be seen for some distance.
Crews also tackled a fire that started in a shed and spread to a house in Orchard Street, Rainham just after 21:00 BST.
This blaze was put out within two hours.
Nobody was injured in any of the fires.