Expansion of Kent's Lydd Airport to go ahead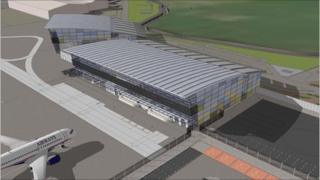 The expansion of Lydd Airport in Kent can go ahead after a legal challenge to the government's approval was dismissed in the High Court.
The £25m project for the airport includes a runway extension of almost 300m (984ft) and a new terminal block.
A joint legal challenge was launched by the Royal Society for the Protection of Birds (RSPB) and the Lydd Airport Action (LAAG) Group.
It follows the closure of Manston Airport, about 40 miles (65km) away.
The RSPB had argued that land around the airport - known as London Ashford Airport at Lydd - was of "exceptional" importance to birds and the expansion would damage unique habitats on Romney Marsh.
'No legal basis'
LAAG also warned the development would raise the probability of an aircraft accident involving the Dungeness nuclear power station complex to unacceptably high levels.
Mr Justice Ouseley, sitting in London, dismissed the challenge saying that "none of the grounds of challenge succeed".
He noted that the airport had been described by a planning inspector as being "in a sensitive location".
The judge ruled there was "no error of law in his acceptance of the safety evidence" that the level of risk was acceptable.
He refused permission to appeal, but the campaigners can still ask the Court of Appeal itself to hear their case.
'Thousands of jobs'
Samantha Dawes, from the RSPB, said the decision was "extremely upsetting and disappointing", and it was not ruling out further action.
Louise Barton, of LAAG, added that expert advice obtained by the group had shown the development was "dangerous with respect to nuclear safety".
Lydd Airport executive manager Hani Mutlaq said: "The judge has today confirmed what we all knew: there was no legal basis for an appeal against the government's decision to back our exciting plans for the redevelopment of Lydd Airport.
"With this distraction behind us we can press ahead. We hope to invite contractors to tender for the runway construction project in late summer and anticipate that work will begin before the end of the year," Mr Mutlaq said.
Michael Walsh, from Friends of Lydd Airport, said he expected that "at least four or five thousand jobs" would be created for "this very deprived area".
The Communities Secretary and Transport Secretary granted planning permission in April 2013 for a runway extension, which will allow passenger numbers to rise from 200,000 to 500,000 a year.
It followed a 42-day public inquiry, which was presided over by Mr Justice Ouseley.