Maidstone Hospital cancer surgery team 'dysfunctional'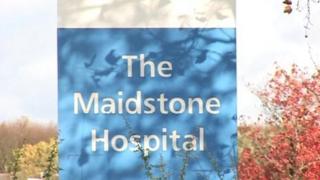 A report into the deaths of five cancer patients at a Kent hospital found its surgery team was "dysfunctional".
The Royal College of Surgeons (RCS) review of the unit at Maidstone Hospital was held in October, but has only just been made public.
Maidstone and Tunbridge Wells NHS Trust published the report on gastrointestinal (GI) cancer surgery after pressure from victims' families.
The review described relationships within the surgery team as "dangerous".
The document concluded that surgeons at Maidstone Hospital were unable to provide a safe service.
The trust has already admitted potentially avoidable surgical complications could have contributed to the deaths of the patients between 2012 and 2013.
All five died from within a year of having stomach or throat surgery.
The trust had previously declined to make the findings public, despite a request by lawyers acting for patients' families under the Freedom of Information Act.
In April, keyhole surgery for upper GI cancer was stopped indefinitely, following the review.
Provide answers
The report said the four upper gastro-intestinal surgeons were repeatedly described as a "dysfunctional team" with a "general lack of communication" between surgeons and anaesthetists.
"Working relationships between the upper gastro-intestinal surgeons and anaesthetists were described as 'dangerous'," the RCS review said.
"Personality issues were cited between two consultant anaesthetists and two of the upper gastro-intestinal surgeons."
The report concluded: "There is ample evidence to support a conclusion that the working practices of the three upper-gastrointestinal surgeons do not provide for a patient-centred, consultant-delivered service and are not in the interests of patients in several respects.
"To the contrary, the working arrangements appear to exist to support the surgeons."
Dr Paul Sigston, medical director for the Maidstone and Tunbridge Wells NHS Trust, said: "I would again like to apologise to the families involved.
"It is our absolute intention to provide families with the answers they seek."