Local elections 2014: Will Kent councils see much change?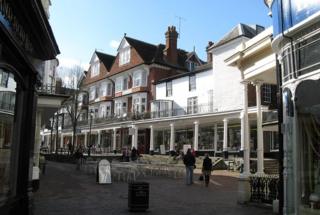 Voters go to the polls in council elections in Maidstone and Tunbridge Wells next Thursday. How might the main parties fare and what will they be hoping for in these two Kent towns?
Maidstone Borough Council has changed between Conservative-led and No Overall Control since the local authority area was created in the mid-1970s.
The Liberal Democrats claim these elections will be a two-horse race between them and the Conservatives. The statistics would appear to bear that out - the council is currently made up of 30 Tory members, 19 Lib Dems, five Independents and one Labour.
UKIP - the party that has done so well in some areas of Kent, such as Thanet, doesn't have a single councillor in Maidstone.
As they are the party of opposition on Kent County Council they will hope to change that at the forthcoming local elections.
In Tunbridge Wells, the party has managed to gain a toe-hold. They have two members on the Conservative-led council. They gained a significant scalp when the Conservative leader of the council was unseated by the UKIP candidate Piers Wauchope in 2012.
Labour still seems to suffering from "Southern Discomfort". They've made small breakthroughs in Kent - in 2011 they won control of Gravesham - a seat described by David Cameron as "a key battleground". But overall they've shown little sign of winning back voters in Kent.
They have a solitary councillor in Maidstone and two councillors in Tunbridge Wells.
It appears at these elections as if Labour is saving its fire power for the key marginal seats it hopes to win back at the 2015 General Election.
Ed Miliband, Ed Balls, Yvette Cooper have all visited Sussex but there have been no big hitters on the campaign trail in Kent - possibly an indication they are not expecting a big breakthrough in the county at the local elections.
It seems unlikely there will be any big change in the councils up for election in Kent. It will be interesting to see how the parties perform though in this - one of the last key tests for the parties ahead of the next election.
In particular, can UKIP deliver the promised "earthquake" in British politics across the South East?