Actor Cliff Parisi in emergency landing at Manston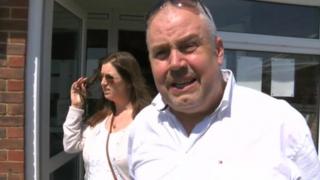 Actor Cliff Parisi was a passenger in a light aircraft forced to make an emergency landing at a Kent airport hours before it was due to close.
The plane touched down at Manston Airport on Thursday morning after the pilot diverted with engine trouble.
"I don't even know where we are," said the former EastEnders actor, who also appears in BBC drama Call The Midwife.
The airport closed at 17:00 BST after its owners said no "credible or viable" offers to buy it had been made.
Two offers from US investment firm RiverOak have been rejected.
A third, higher offer tabled on Thursday hours before the airport shut was also rejected.
After being told where he was and that the airport was due to close, Mr Parisi said: "We would have ended up in the drink, I think.
"So thank you for being open."
'Licence is critical'
In a last-minute plea, the Unite union called on Transport Secretary Patrick McLoughlin to insist that Kent Airport Ltd, the airport's owner, keep its Civil Aviation Authority (CAA) licence operational.
Regional officer Ian McCoulough said: "The CAA licence is critical at this 11th hour. Without it, Manston Airport can't function."
He said it would also make the airport more attractive to a potential buyer.
Sir Roger Gale, Conservative MP for Thanet North, said: "There is absolutely no reason in law why Manston Airport should close tonight."
He said RiverOak had made a further "enhanced offer" on Tuesday night.
"They offered a significant sum which would have given a healthy profit [and] they offered to meet the running costs of the airport while the deal was struck and finalised," he said.
"If it does close it will be due to the unwillingness on the part of the Manston group to negotiate at all," Sir Roger said, adding he was now starting to believe that owner Ann Gloag "doesn't want to sell".
The site was bought by Ms Gloag, who co-founded the Stagecoach Group, last October but in March it was announced the airport was in talks about closing because it was losing £10,000 a day.
'Completely gutted'
Most of the 150-strong workforce have yet to find other work, with the vast majority still wanting to remain there, Sir Roger said.
Mr McCoulough said that he was aware that only one person had left to go to another job, apart from those working for the Dutch airline KLM, which pulled out of the airport last month.
Glenn Sheppard, an airfield operations officer at Manston, said everyone was "completely gutted and upset" about the closure.
"For all of us here, it's not just a job, it's a way of life. We've got generations of families working here, and it is just one big family," he said.
"Thanet is a very bad spot for work, so most of us don't know what we're going to do yet - there are no airports round here."
Wendy Fraser, of Save Manston Airport, said supporters believed Ms Gloag never intended to sell the airport.
"We believe with absolute conviction that the intention was always to run it down, close it and develop it into a residential development," she said.