Dean Williams guilty of girlfriend Mary Malkin murder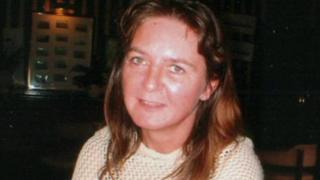 A man has been found guilty at a retrial of murdering his girlfriend nine years ago.
Dean Williams, 51, of Millmead Road, Margate, was given a life sentence at Maidstone Crown Court and ordered to serve at least 17 years in prison.
He had admitted manslaughter on grounds of diminished responsibility but had denied a charge of murder.
He strangled his partner Mary Malkin, 40, in the flat the couple shared in January 2005.
A post-mortem examination found Ms Malkin died from asphyxia, consistent with manual strangulation.
During the trial, defence lawyers claimed Williams had been suffering from brain damage as a result of alcohol dependency.
'History of violence'
But prosecutor Cairns Nelson QC said Williams had an aggressive and violent personality when he was drunk that was demonstrated by repeated violence towards Ms Malkin in the year before he killed her.
Mr Williams had told police he had fallen asleep in bed with Ms Malkin on the night of her death, but woke the next morning finding she was cold.
He said he carried out CPR and mouth-to-mouth resuscitation.
Nigel Pilkington, head of the Crown Prosecution South East complex casework unit, said: "Williams is an aggressive and violent man with an extensive history of committing acts of domestic violence, not only against Mary, but also two other previous partners.
"Our case was that the defendant had a long-term tendency to commit acts of violence that led to him strangling his partner to death, rather than any medical abnormality.
"We welcome the jury's verdict that the defendant was not suffering from any such mental issues."
In 2005, Williams was convicted of murder and jailed for life with an order to serve at least 20 years.
'Clear atrophy of brain'
Less than a year later, an appeal against his conviction and sentence amid claims his former partner had given bad character evidence was dismissed.
But, the Court of Appeal ordered a retrial last year after the Criminal Cases Review Commission (CCRC) found new medical evidence that suggested Williams was suffering from alcohol dependency syndrome and associated brain damage.
The CCRC said there was a real possibility the court would substitute the original murder conviction with manslaughter on grounds of diminished responsibility.
London's Court of Appeal also said the evidence - brain scans that showed "clear atrophy of the brain" consistent with alcohol-related brain damage - supported a defence of diminished responsibility.
Lord Justice Laws said the fresh material raised doubts over the safety of the first guilty verdict and the issue of Williams's impairment was "pre-eminently a jury question".
He quashed the conviction and ordered the retrial.
Press restrictions preventing reporting of the first trial were lifted on Tuesday.