Paddock Wood homes tested for factory contamination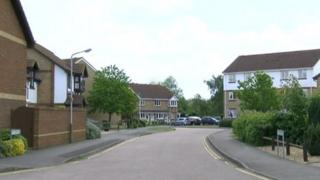 Tests are to be carried out at more than 260 homes in a Kent town to find out if the land they were built on more than 20 years ago is contaminated.
Tunbridge Wells council said it had contacted residents near the former factory site in Paddock Wood because the ground needed to be investigated.
It said the site was used for the manufacture of sheds and greenhouses, which involved timber treatment.
The council said it had contacted with residents personally and by letter.
Two drop-in information sessions have also been held in the area.
'Looking for chemicals'
BBC reporter Jon Hunt said the council would be testing soil samples for the presence of tars, creosotes and asbestos, but it was unclear who would be liable for making the ground safe if contaminants were found.
Gary Stevenson, the council's head of environment, said: "Those chemicals, if you come in direct contact with them, would have been hazardous when working with them.
"The current work now is to find out whether there is anything still left on that site or not that may present a risk to people that are living there now."
Resident Liz Duckworth said: "My concern really is we are a communal garden.
"Animals do come in and out. We do occasionally have the children. That's my concern, you know, the children and the animals."
Janet Hilliard, a property maintenance contractor who works on a communal garden in the town, said: "I suppose you could be slightly worried in case it is anything bad and I'm digging the gardens all the time.
"I would have liked to have known about it really."