Aviation firm fears for future if Manston Airport closes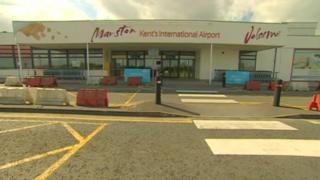 A business based on Manston airfield fears its future and eight jobs could be in jeopardy if the Kent airport closes as planned on Thursday.
TG Aviation, which also runs a flying school, said it had already lost maintenance contracts because of the airport's uncertain future.
Manager Sue Girdler said the company had been based at Manston for over 30 years and the closure was devastating.
Protesters angry at next week's closure gathered at the airport on Friday.
They want owner Ann Gloag to reconsider an offer from US firm RiverOak Investment to buy the airport.
'Deal possible'
Ms Girdler said TG Aviation had trained many pilots over the years and there was still a 50-year lease left on the business.
"There's been a credible, viable bid made for the airfield... we need someone in here with aviation experience that can realise the full potential of Manston.
"I know there are cargo carriers that would like to come back in and operate from here if a sale can be agreed," she said.
Ms Girdler said that if the company could not remain at Manston, it would try to move to another facility, although it would not be easy to refinance it.
She said eight people would lose their jobs if it was forced to close.
Speaking at the demonstration on Friday, local Conservative MP Sir Roger Gale said he remained hopeful that a deal could be brokered.
"The chief executive of RiverOak rang me to say that he is absolutely determined in his efforts to buy the airport.
"He's got the money to do it. It just requires now for him and Ann Gloag to get together... I'm sure a deal can be done if they talk."
No-one at Manston Airport was available for comment on Saturday.