Cranbrook Union Windmill honours its last owner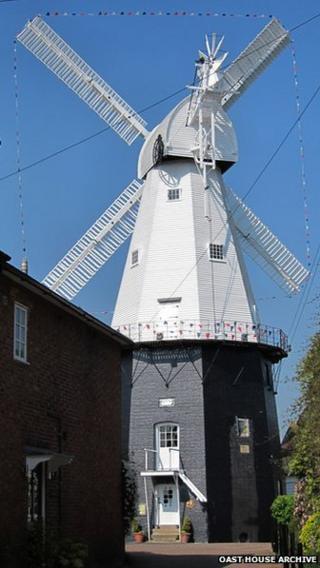 The life of a "quiet, hard working, decent man" who saved a Kent windmill from demolition is being remembered as part of its bicentenary celebrations.
The Grade I-listed Cranbrook Union Windmill was built in 1814 and is the tallest smock mill in England.
John Russell, its last commercial owner, sold it to Kent County Council in 1958 for one shilling in return for a promise to preserve the windmill.
A plaque in his honour is being unveiled at Vestry Hall in Cranbrook.
The windmill, which is almost 72ft (22m) high, stands at the highest point overlooking the town.
It is a working mill run by volunteers from the Cranbrook Windmill Association (CWA).
When there is sufficient wind, wheat is ground and wholemeal flour produced.
Joy Temple, who has been a volunteer at the windmill for seven years, said Mr Russell owned the mill at a time when "everything was being knocked down, and when new was thought to be better than old".
He took over the ownership of it following the death of his father, Caleb Russell, in 1918.
The memorial plaque says: "John Russell saved Cranbrook Union Windmill from demolition by refusing a large sum of money from developers.
"Instead, he sold the mill and the very valuable surrounding land to Kent County Council for just one shilling in return for their promise to preserve the windmill."
Ms Temple said he had no children "but his refusal of riches in return for the survival of the mill is his legacy".
"He is remembered as a quiet, very hard working, decent man.
"The Cranbrook Windmill Association decided the bicentenary was a good time to formally recognise what we owe to him," Ms Temple said.
The windmill has undergone restoration on a number of occasions, most recently during 2002 and 2003 with funds from Kent County Council and the Heritage Lottery Fund.