Canterbury Pilgrims Hospice to close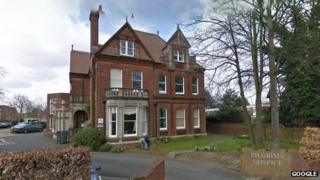 A hospice in Kent is to close, with more care to be provided to patients in their own homes.
Pilgrims Hospice in Canterbury will close to inpatients in 2016 but keep beds in Ashford and Thanet.
The hospice said it will retain a base in Canterbury to be used for staff and volunteer education and development.
A spokesman said patients and their families increasingly wanted and needed care in their own homes.
Steve Auty, chief executive of the charity, said: "We want to make Pilgrims Hospice more responsive, equitable and accessible, and to focus on our core responsibility of providing expert palliative and end of life care.
"By 2016 we aim to provide more of our care in the community and at bedsides in hospital and care homes."
In a statement, the hospice said: "The new strategy, which has been developed over the last year by over 50 staff and volunteers, will allow Pilgrims to re-deploy more staff into the heart of the communities in East Kent."
The charity has running costs of more than £10.5m each year, with 75% of funding coming from the local community and the remainder being contributed by the NHS.
The Canterbury building is the oldest and least practical of its three hospice buildings, the hospice added.