Kent street lights 'should go back on'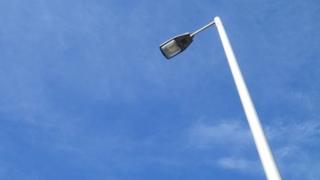 Renewed calls have been made to turn some street lights in Kent back on amid claims a trial switch-off is leading to a rise in crime.
The county council is trialling switching off 2,500 of the county's 120,000 lights in a bid to save about £1m a year and reduce carbon emissions.
Roger Wilkins, chairman of Dymchurch Parish Council, claimed the area had become more dangerous.
The council said it was continuing to work with police.
In March, some town councils criticised the scheme, claiming that crime had risen as a result and that residents did not feel safe at night.
Mr Wilkins said: "It's just horrendous to me that they decided they were just going to turn a load of street lights out.
"They're supposed to go out between 12:00 and 05:00. Well, these do not come on at all and I just fear for the people's safety on this A259."
Kelsey Lapthorn, from Kennington, near Ashford, said the switch-off had led to an increase in crime in her area, with eight or nine cars broken into one evening.
"A number of garages were also entered, property was stolen and last Saturday, in this road, we had two cars vandalised, again in the early hours," she said.
The council said it was not switching off any lights in town centres, areas with CCTV or known for anti-social behaviour, at busy road junctions and in places with road safety issues
'Marmite project'
It has also introduced part-time night lighting between 00:00 BST and 05:30 BST, when it says lights are least needed.
John Burr, Kent's highways director, said 75% of people who responded to the recent consultation supported the idea.
"This is a sort of Marmite project - people either love the idea or hate the idea," he added.
In a statement, the council said: "There is a perception that absence of street lighting will lead to increased crime.
"However, statistics show that majority of burglaries are carried out during daylight hours when householders are likely to be at work.
"If there is a negative effect on crime levels or road safety that can be attributed to the absence of street lighting, the decision will be reviewed and lights may be turned back on."