Somerset Maugham: Whitstable's 'forgotten son'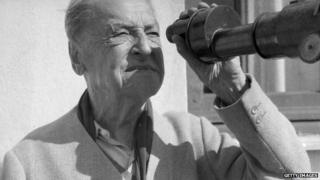 Despite being revered and celebrated around the world, the name Somerset Maugham is largely greeted with ambivalence in the town he once called home.
Lauded as one of the most popular writers of the 20th Century, the French-born novelist, short story writer and playwright sold tens of millions of books in his lifetime.
In the 1930s, he was the world's highest-paid author. Hollywood actors including Greta Garbo, Rita Hayworth and Naomi Watts have starred in adaptations of his works.
But despite the fact that the writer lived in Whitstable, Kent, for several years as a child, few of the harbour town's residents give any thought to his legacy.
There are no memorials or plaques marking his achievements there, and the vicarage where he grew up was demolished in the 1960s to make way for new homes.
Some residents believe Maugham hated Whitstable, which featured as "Blackstable" in his novels Of Human Bondage (1915) and Cakes and Ale (1930).
The organisers of the first Whitstable Literary Festival are now hoping to ignite an interest in his work.
Victoria Falconer, the festival's director, believes the seaside town played a profound part in shaping the author.
Born William Somerset Maugham at the British Embassy in Paris in January 1874, Maugham's mother Edith died of tuberculosis when he was eight.
His father Robert Ormond Maugham, a solicitor who worked for the embassy, died of cancer three years later.
'Devastating impact'
Maugham was then sent to live with his uncle, the Reverend Henry Maugham, the Vicar of Whitstable, and his wife.
He had never met his uncle before and found himself living in a cold, austere environment, Ms Falconer said.
"It must have had a devastating impact on his life," she added.
"His years in Whitstable weren't very happy."
With French as his first language, Maugham was taunted at King's School in Canterbury for his English and developed a stammer.
Ms Falconer said: "I think his love of books started during his time in Whitstable - he started to discover books and it was quite an escape for him.
"You could say that Whitstable had a profound effect on his career as a writer."
'Troubled man'
Maugham eventually trained as a doctor at St Thomas's Hospital in Lambeth, London.
After the success of his first novel, Liza of Lambeth, published in 1897, he gave up medicine to become a full-time writer.
By 1908, four of his plays were running simultaneously in London.
So why have his accomplishments gone largely unrecognised in his former town?
Ms Falconer's theory is that Whitstable residents rejected Maugham because he made it clear he had been unhappy there in his semi-autobiographical novel Of Human Bondage.
The book tells the story of an orphaned boy who was brought up by his religious uncle and aunt in the grim fishing village of Blackstable, before leaving and becoming an artist in Paris.
"He is revered and celebrated internationally but forgotten in Whitstable and I always felt that's a shame," Ms Falconer said.
"He's just not considered particularly fashionable in the UK."
Describing Maugham as "a troubled man", Ms Falconer said: "I think his reputation as a kind of bitter, mean man has prevailed in this country.
"Perhaps that's why he's not really as well known in this country as he is abroad, people remember that side of him.
"Do you have to like the man to like his work?"
Maugham died in France in 1965, at the age of 91.
In a bid to get people reading his works, the festival's organisers have distributed copies of Cakes and Ale, a satire of London literary society, to local book clubs and will be hosting events including the one-man play Mr Maugham at Home.
Camilla Chandon and Nic Paravicini, Maugham's grandchildren, are due to speak about their grandfather at the event.
WhitLit will be held in the Horsebridge Arts Centre and at Whitstable Library from 8 to 11 May.