Union fury after Manston Airport closure announced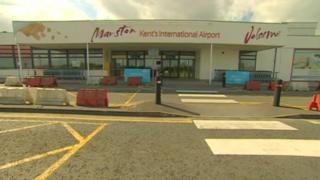 The union representing staff at Manston Airport has launched a formal grievance over what it calls the "complete failure" to consult on its closure.
The loss-making Kent airport will close on 15 May after no "viable alternative" was found to allow it to remain open. Up to 150 jobs will be lost.
A bid to buy the site was rejected on Monday and another fell through in April.
The Unite union said it would continue to fight to give Manston a future.
'Bizarre decision'
Regional officer Ian McCoulough said he was "shocked and very angry" and could not believe the owners had rejected "a viable offer" which would have left them in profit.
"We believe Manston should continue as a viable airport. It is vital to the local economy in terms of employment and economic growth in Kent," he said.
"Unite has lodged a formal grievance with the owners over what we believe is a complete failure to consult with the unions over the bizarre decision."
Local Conservative MPs Sir Roger Gale and Laura Sandys said they hoped the owners could be persuaded to reconsider the decision to close as there was "ongoing and serious interest" in the acquisition of the site as a working airport.
Airlines pull out
Wendy Fraser, group secretary of Save Manston Airport, said campaigners would be stepping up their campaign to keep the airport open
"We'll fight to reopen it if it does close, and we will not let this be made into anything but an airport," she said.
The site was bought by Ann Gloag, who co-founded the Stagecoach Group, last year.
In March, the airport said it was in talks about closing because it was losing £10,000 a day.
Several airlines have pulled out, including KLM, which ran two daily flights to Amsterdam.
The origins of the airport stretch back to World War One, and during World War Two Manston was heavily bombed during the Battle of Britain.