A formal offer to buy Manston Airport is rejected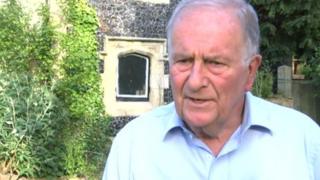 A formal offer to buy a Kent airport threatened with closure has been rejected by its owners.
Manston Airport said a conditional written offer submitted on Sunday had been turned down.
North Thanet MP Sir Roger Gale, who revealed the offer had been made, earlier said he believed it was viable and and hoped it would succeed.
"The basis of this proposal had been put to shareholders verbally on Friday and rejected," the airport said.
"There are a number of reasons for this, including the fact that some of those associated with the offer have approached the shareholders previously and have consistently failed to substantiate their proposals.
"We have clearly demonstrated our willingness to consider credible and viable offers and have engaged with a range of interested parties over the last couple of months which unfortunately have not come to fruition."
'Distress and concern'
Scottish businesswoman Ann Gloag, who co-founded the Stagecoach Group, bought Manston Airport for £1 last year.
In March, the airport said it was in talks about closing because it was losing £10,000 a day.
Several airlines have taken their business elsewhere, including KLM, which ran two daily flights to Amsterdam.
Newmarket Holidays, which offers flights to Verona and Naples in Italy, said it would move its Kent departures from Manston to Lydd airport from June.
Conservative Sir Roger said in a statement on Sunday the future of Manston was causing distress and concern to the 150 people employed at the site.
An offer from an unnamed potential buyer in April was subsequently withdrawn.