Detective's anger at killer Anthony Swindells prison move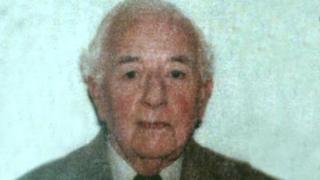 A detective who helped jail a man for the torture and murder of an 84-year-old ex-clerk has expressed anger over plans to move him to an open prison.
Anthony Swindells was jailed for life in 1997 for the murder of Ken Speakman, from Ramsgate.
Swindells was caught three months later when he was shot by a homeowner whose house he had broken into armed with four handguns stolen from Mr Speakman.
The Parole Board has now recommended he is moved to an open prison.
'Trained assassin'
The decision would need to be confirmed by the Secretary of State for Justice.
Former Det Supt Nick Biddiss, who led the investigation into Mr Speakman's murder, said: "I think it's a disgrace.
"He's an evil, wicked man and in my view he should never be let out.
"This man is a trained assassin and in my view he's a danger to the public".
Swindells broke into the home of Mr Speakman, 84, murdered him and stole his guns.
Three months later he broke into the home of Roger Andrews, in Birchington, who also legally owned handguns.
Mr Andrews shot Swindells three times. He was caught by police attempting to escape across a field.
A National Offender Management Service spokesman said: "The transfer of life sentence prisoners to open conditions is a decision for the Secretary of State, usually after seeking advice from the Parole Board.
"In making a recommendation, the Parole Board thoroughly considers the evidence and will only recommend a move to open conditions when it considers it safe to do so.
"If a prisoner gives cause for concern in open conditions, they can be returned to closed conditions immediately."