Maidstone dispute over need for house building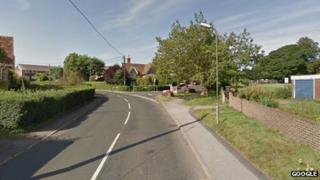 Growing demand for new homes in a Kent town has sparked a dispute over the exact number needed.
An independent report commissioned by Maidstone Borough Council (MBC) put the figure at 19,600 by 2031, but the council says it only wants 17,100.
Conservative Kent County Council (KCC) has said the number should be 14,500, with other political parties saying it should be as low as 10,000.
A public consultation on Maidstone's local plan ends on Wednesday.
'Sustainable development'
The town centre, Invicta Barracks and Lenham have been named as locations for house building by the council, which is holding local elections on 22 May.
Council leader, Conservative Chris Garland, said the government expected it to build 20,000 homes and it would have to prove in the local plan why it could not do so.
"Our local plan is significantly below that at 17,100," he said.
"Unless you have got a five-year housing supply then there is a presumption in favour of sustainable development."
Fellow Conservative, KCC leader Paul Carter, said 17,100 homes was excessive.
"We've got to look at the infrastructure to support sensible housing growth," he said.
"I believe the sensible number to be in the order of 14,000 to 14,500."
'Roads nightmare'
Lib Dem opposition leader Fran Wilson said the number of houses should be nearer 11,000.
"The road infrastructure is a nightmare but that is not the only factor," she said.
"We have to think about sewage, about how much water we have and school places, hospitals and doctors' surgeries."
Green Party leader Stuart Jeffrey said there should be 10,000 homes.
"There is a real housing crisis in Maidstone but there is no need to build on green-field sites," he said.
"There is enough space in the town centre in disused office blocks and brown-field sites."
'Green characteristics'
Labour's Malcolm McKay said: "Our party is not against the building of houses but in Maidstone we don't have the infrastructure.
"We need the road network and the schools,"
Independent, Gordon Newton, said: "We all accept that as Maidstone grows new houses will be required but more along the lines of about 10 to 11,000.
"I don't agree with the plan. We are losing all the green characteristics of Maidstone."
UKIP's Peter Edwards-Daem said there should be no building on green-field sites.
"By building on brown-field sites and bringing empty homes into use the number (of homes) would be 10,000," he said.