Gravesham council bosses on Florida theme park trip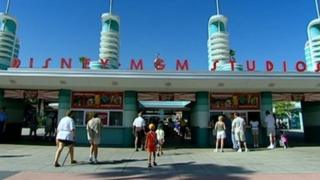 Nine council bosses are flying to the US to research theme parks in Florida at the cost of £15,441.
The team from Gravesham District Council said the trip would help the authority prepare for a £2bn Paramount theme park in Swanscombe, Kent.
Regeneration director Kevin Burbidge said the costs had come from the council but funds would come back to the authority from the developers.
He said the purpose of the trip was research and not "to go on the rides".
The group, including five councillors and four officers, was flying to Orlando on Saturday for the trip, during the Easter holidays, and is due to return on Wednesday.
'Examining logistics'
Mr Burbidge said: "We need to understand what works and what doesn't work."
Similar theme parks around the world had seen some towns prosper and others fail, and he wanted towns in Kent to prosper, he added.
He said the group would look at how the parks and nearby communities operated, and added: "Rest assured we're not there to go on the rides."
The team wanted to find out whether visitors arrived through the day and all left at once, how they moved between hotels, how traffic was managed, and other logistics, he said.
Last month, Gravesham council said the itinerary included visits to Disney World, Universal Studios, Island of Adventure and neighbouring developments and communities, and detailed discussions about a whole range of "behind-the-scenes issues" in the development and running of a major global attraction.