'Two weeks' to find Manston Airport buyer says North Thanet MP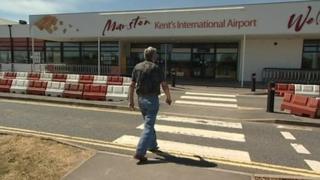 An MP has said he fears Manston Airport has only two weeks to find a buyer before it closes.
Sir Roger Gale MP, who represents North Thanet, held two hours of talks with the airport's owner Ann Gloag.
In March, Manston Airport stated it was in talks about closing amid claims it was losing £10,000 a day.
Several airlines have pulled out of the airport and taken their business elsewhere, including airline KLM which ran two daily flights to Amsterdam.
Newmarket Holidays, which offers flights to Verona and Naples in Italy, said it would move its Kent departures from Manston to Lydd Airport from June.
KLM pulled out at the end of March and Flybe did the same in November 2011.
'Losing money'
Sir Roger said: "Mrs Gloag made the point that she can't go on running an airport that's continually losing money.
"The bottom line is that she wants to sell the airfield and if a buyer comes along in the timeframe - which is getting shorter by the minute - and can make a fair offer, she will sell."
He added: "I'm certainly going to talk to Paul Carter [leader of Kent County Council] to see if there's anything the county can do to contribute towards this.
"If they can put hard cash where the support is, that would be a very good thing... [but] there's a limit these days to the amount of money available."