Crohn's patient Lizzie Rose loses egg-freezing case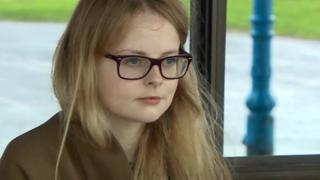 A woman with Crohn's disease has lost a legal challenge against a decision to refuse NHS funding to freeze her eggs.
Lawyers for Elizabeth Rose, 25, from Margate, Kent, claimed in the High Court it was unlawful to refuse the treatment to preserve her fertility.
Miss Rose fears an imminent bone marrow transplant and chemotherapy treatment will leave her infertile.
She took legal action over a refusal by Thanet Clinical Commissioning Group (CCG) to provide funding.
Early menopause
Mr Justice Jay, sitting in London, dismissed her application for a judicial review.
"Unfortunately, it is a probable outcome of this gonadotoxic therapy that the claimant will be rendered infertile and suffer early onset of the menopause," he said.
"Understandably, the claimant wishes to secure the best chance of having her own genetic children, and she therefore seeks NHS funding for oocyte cryopreservation before the chemotherapy begins."
The judge said she had failed to demonstrate that the CCG had been unlawful.
But he also ruled that the CCG "failed properly to address" recommendations made by the National Institute for Health and Care Excellence (Nice) on when funding should be offered.
'Postcode lottery'
Miss Rose has had a severe form of Crohn's disease since she was 14.
Her condition has deteriorated and doctors at King's College Hospital in south east London are recommending a bone marrow transplant and chemotherapy to bring the disease into remission.
The fine art graduate believes she is the victim of a "postcode lottery" as the treatment is available to single women in some other parts of the country.
Miss Rose's lawyer Merry Varney said an urgent application would be made to Thanet CCG to reconsider her case "within a matter of days".
"The CCG must now, without delay, reconsider their policy in light of these findings for the sake of our client and others," she said.
Urgent hearing
After the ruling Miss Rose said: "I am pleased that Thanet Commissioning Group now has to revisit its policy.
"I would like to take this opportunity to thank the incredibly supportive doctors who have helped me a great deal through this fight and my illness."
The application for judicial review was heard urgently because chemotherapy can only be delayed for four to six weeks, and oocyte reservation takes a few weeks to complete.
Thanet CCG said it would consider the full written judgement carefully, working closely with NHS England.
"If necessary we will review our policy on the freezing of eggs," it said in a statement.