Canterbury mental health pilot scheme rolled out in Kent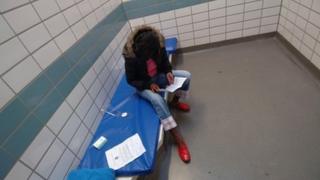 A pilot scheme aimed at reducing the number of mentally ill patients in police cells is set to be rolled out across Kent.
The trial, in Canterbury, saw nurses go out on patrol with officers in a partnership between police and Kent and Medway NHS trust.
The trust said the scheme would be rolled out this summer.
The initiative was trialled in 10 other parts of England, including Sussex, earlier this year.
Police have powers to take people experiencing mental health issues in a public place to a "place of safety". Many end up in police cells.
It has been estimated that police officers around the country spend 15% to 25% of their time dealing with people with mental health problems.
Ch Insp Martin Wilson, of Kent Police, said officers and metal health nurses had access to computer systems.
"And that way the two professionals can collaborate on the decision and probably do the right thing for the patient each time round," he added.
Nigel Ashurst, a consultant with the Kent and Medway NHS and Social Care Partnership Trust, said: "We don't necessarily want or need our officers to be experts in mental health, that's what the NHS is there for.
"I think the way I view it is that the police officers are maybe the first port of call and the first point of contact.
"But one of our jobs is to introduce people to the NHS at the earliest opportunity so they can get the care they want from professionals."