Kent home care providers named after care revamp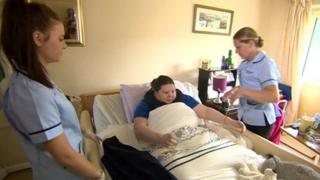 A list of 23 home care providers that will work with Kent County Council (KCC) has been unveiled after a revamp of services.
Care workers had raised concerns about the changes and clients had also said they were worried that their carers might change.
KCC has reduced the number of companies it works with from about 120 to 23.
It said the move would lead to stronger relationships and better management, and also savings of £2.7m a year.
The savings have come from reduced travel costs and overheads and economies of scale, the council said.
KCC provides home care to more than 6,000 vulnerable and elderly people.
The authority has said people who receive care will not see a change in the sort of care they receive but the person delivering their care may change.
Two clients, Freda Sargent whose 92-year-old husband receives care and Kay Hogwood who has multiple sclerosis, both told the BBC they feared losing the carers they knew and trusted.
Care workers and any clients who have concerns have been urged to contact the council with any questions.