Manston Airport: Charter flight operator moves to Lydd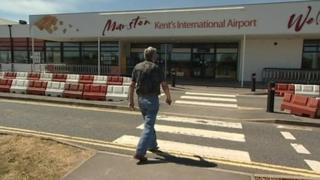 A tour operator which runs charter flights from a Kent airport at risk of closure is moving to another location.
Newmarket Holidays, which offers flights to Verona and Naples in Italy, said it would move its Kent departures from Manston to Lydd Airport from June.
The company said the change was being made "in order to avoid any further uncertainty".
In March, Manston Airport stated it was in talks about closing amid claims it was losing £10,000 a day.
'New chapter'
The Dutch airline KLM, which ran two daily return flights from Manston to Amsterdam, stopped flying from the airport on Wednesday.
In November 2011, Flybe announced it would be pulling out of Manston, blaming the size of the airport's catchment area.
Lydd Airport recently received the go-ahead for a £25m upgrade to its facilities.
Amanda George, regional charter manager for Newmarket Holidays, said: "We have enjoyed a very happy and successful relationship with Manston International over many years.
"However, we are excited to be beginning a new chapter at Lydd, which will mean Kent passengers can still begin and end their holidays at a local airport, which is what they enjoy doing."