MP's Rochester and Strood EU 'referendum' result announced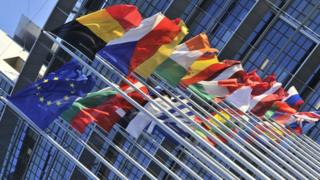 A ballot carried out by a Kent Conservative MP, has found that more than 80% of respondents would like the UK to leave the European Union.
Mark Reckless sent out postal voting papers to 45,000 households in his Rochester and Strood constituency.
Of the 3,756 votes returned, 3,015 were in favour of leaving the EU, with 741 saying they would remain in the union.
Mr Reckless said: "It was a chance for people to give their thoughts on the European Union."
Antony Hook, the Lib Dem South East MEP candidate, said: "I think it's clearly a publicity stunt by an MP who is completely out of touch with the real concerns of the people of Medway, like jobs and social regeneration, which are supported by the European Union.
"A very small number of people took part."
Residents were asked the question: "Should the United Kingdom be a member of the European Union?"
Of the 45,000 households sent ballot papers fewer than 10% responded.
The eurosceptic MP said: "I believe we can govern ourselves better than 27 other counties can do so for us. I think we would be better outside the European Union."