Former Canterbury prison bought by university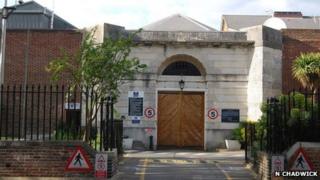 A former prison in Kent which was once home to notorious London criminals Ronnie and Reggie Kray has been bought by Canterbury Christ Church University.
Canterbury Prison, in the Longport area of the city, was closed by the Ministry of Justice last year.
The building has three wings, a chapel, reception, education block, hospital, gym, kitchen, library and workshops.
The university said it would carry out a review to consider the viability of using it for student accommodation.
It will include extensive consultation with staff, students, stakeholders and community groups, the university said.
The building will form part of the North Holmes Campus.
The prison began life as a county jail in 1808 and had 400 inmates at its peak.