Fears as Kent County Council home care services change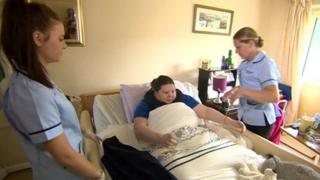 Fears have been raised that vulnerable people might not get the support they need amid changes to Kent County Council's home care services.
The authority is signing new contracts with providers of care for more than 6,000 people and cutting numbers of companies it works with from 120 to 20.
The UK Homecare Association (UKHCA), which represents providers, said any loss of support could be catastrophic.
The council said people's care and length of visits would be unchanged.
It said clients' carers might change, but the reorganisation would improve services.
Bridget Warr, from UKHCA, said: "My concern is that what we'll end up with is vulnerable people not getting the support they need at the time they need it.
"That's not only catastrophic for the individual and the family but also down the line for the whole of society."
'Management savings'
Freda Sargent, whose 92-year-old husband receives care, said it was "unfair" they could lose carers they knew and trusted, and Kay Hogwood, who has multiple sclerosis, said she would not be able to live without her current carers.
Councillor Graham Gibbens, cabinet member for adult social care, said the council had not yet decided who would provide continuing care to individuals.
"In many cases, it will be the same carers. But of course, even now, carers do change. Carers do move," he said.
"What I can assure everybody in Kent is that the people who need care will continue to receive care."
He said cutting numbers of providers would bring stronger partnerships, better monitoring of services, and savings on management and administration.
Under the changes, providers would have specific geographic areas which would cut travel times and costs, he added.