Cross-Channel ferry services to and from Dover return to normal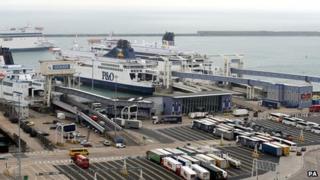 Cross-Channel ferry services are returning to normal after 24-hour industrial action in France finished earlier than expected.
Earlier, the Port of Dover warned of severe ferry disruption caused by the strike at the Port of Calais and said freight traffic was building up.
The strike started just after 23:00 BST on Wednesday but ended at about 16:00 BST on Thursday.
Travellers were warned that delays could continue as Calais reopened.
The Port of Dunkirk remained open throughout the day.
A spokesman from P&O Ferries said the firm had been running a limited service on the Dover-Calais route.
BBC Travel reports said services run by DFDS Seaways, My Ferry Link and P&O were still subject to delays on Thursday evening.