Illegal worker arrests on the rise in Kent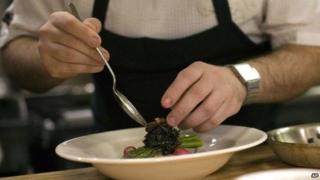 The number of people held on suspicion of working illegally in Kent has risen by two-thirds in a year, figures show.
In a Freedom of Information Act request from BBC Radio Kent, the Home Office said 364 people were detained - mostly in restaurants and takeaways - in 2013, compared with 217 the previous year.
Kent firms employing illegal workers have been fined more then £4.5m since 2008, the Home Office said.
The number of arrests has increased in each of the past three years.
The Home Office said employers face fines of up to £10,000 for each illegal worker found, with plans to increase penalties to £20,000.
Since 2011, about three-quarters of businesses issued with fines for employing illegal workers in Kent have been restaurants or takeaways, according to the Home Office figures.
'Consequences for employers'
The Federation of Small Businesses said its members did not have the necessary expertise of resources to carry out the necessary checks on staff.
Roger House, from the federation, said: "If a business has an HR department then it can probably cope.
"For the small business it just adds that extra layer of bureaucracy and a penalty if they get it wrong."
A Home Office spokesman said under the Immigration Bill, which has passed through the House of Commons and is now with the House of Lords, the maximum penalty for employers would double to £20,000 for each illegal worker.
He said: "The legislative changes to civil penalties are part of a wider package of reform to the way in which we prevent illegal working."
There will be "real and enforced consequences for employers who repeatedly exploit illegal workers", he said.