Harjit Chaggar death: Shop death jury shown bloodstains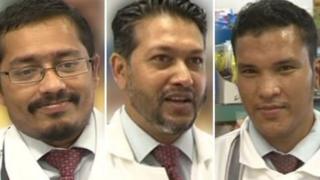 A jury has been shown photographs of bloodstains in a Kent shop where the body of a 69-year-old woman was found in the basement.
Three men, who deny murdering Harjit Chaggar last September, are on trial at Canterbury Crown Court.
The court heard Mrs Chaggar's badly-decomposed body was found at the Sani Globe Food Store in Chatham 12 days after she went missing.
Jurors heard her body was concealed in a bin bag under the floor boards.
Kent Police senior crime investigator Mark Tyman said: "There was a substantial amount of blood found in the lower store room and around the shop freezer."
He said when the blood was analysed it matched Mrs Chaggar's DNA profile.
'Horrible smell'
Abdur Rohim, who used to cook at the food store, gave evidence from Bangladesh by video link.
He told the court he never met Mrs Chaggar, but said in the days leading up to the discovery of the body, there had been "a horrible smell" in the shop.
Mr Rohim said staff lit incense sticks to get rid of it.
The trial has previously heard post-mortem tests suggested Mrs Chaggar's injuries were consistent with being thrown into the basement while still alive.
Abdul Hannan, 44, and Murshed Miah, 38, from Maidstone, and Mohammed Liakat Islam, 28, of Gillingham, have all denied murder.
They also deny preventing Mrs Chaggar's lawful burial, along with a fourth defendant, Rasad Miah, of Chatham.
Sani Globe has been described to the court as a grocery and a butchers which supplied local restaurants.
Jurors have heard Mr Hannan and his brother Murshed Miah ran the business, Rasad Miah worked in the shop and Mr Islam was a butcher there.
The case continues.