Hundreds attend Manston airport closure meeting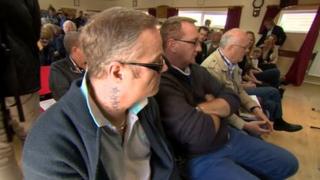 Hundreds of people have attended a meeting called to rally opposition to the proposed closure of Manston Airport in Kent.
Thanet MPs Sir Roger Gale and Laura Sandys have led moves to keep it running after a consultation was announced over its future.
Residents and workers were told that an anonymous offer has been made for the airport, but there is no deal as yet.
The loss-making airport was bought by Anne Gloag for a £1 in October.
On Wednesday, Dutch airline KLM said it was suspending its Cityhopper flights between the airport and Amsterdam from 10 April.
A petition to keep the airport open has gained more than 12,000 signatures.
Supporters believe it could bring jobs to a deprived area and benefit residents who would otherwise have to travel to Heathrow or Gatwick.
A 45-day consultation on the airport closure with its 144 staff is ongoing.