Kent County Council criticised over Latvian child in care
By Sanchia Berg
Today programme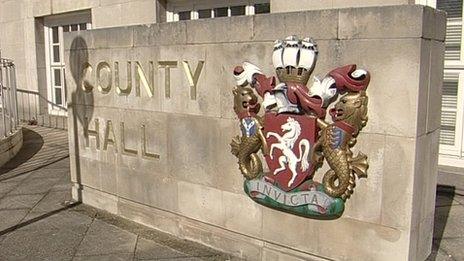 Kent County Council has been criticised by the High Court for failing to give a Latvian father the right information when it took his young son into care.
The four-year-old was brought to Kent in early 2013 by his mother. She had divorced his father, who was in Latvia.
When the boy started school teachers noticed bruising on his face, which resulted in him going into care, but the father was not contacted.
Kent County Council conceded that it had failed to act correctly.
Social workers investigated after the boy told them his mother's new partner had been beating him.
The council should then have formally served the boy's father with court papers and told him he was entitled to legal aid as well as an English lawyer.
But that never happened, even though the court had ordered it.
It was only when the case was moved to the High Court, in September, that the father was properly briefed.
The father told the High Court he had never agreed to his son being taken to England.
When he learned through friends that the mother had taken him there, he did try to find out exactly where he was.
He approached the Latvian police and the local courts, but neither could help him.
He told the BBC he had been "very shocked" to find his son had been beaten and taken into care.
He had always been ready and willing to have his son live with him, he said.
Last month the High Court ruled that the boy should be returned to his father in Latvia, which is where he is now.
The High Court judge said the case had caused the court "enormous concern".
Jenny Whittle, cabinet member for specialist children's services at Kent County Council, said she recognised the authority had failed to act quickly enough, and there had been "drift and delay".
But she said the case had strong similarities with that of Daniel Pelka - the boy born to Polish parents but who died, aged four, in Coventry after being starved and abused by his mother and her boyfriend.
Daniel's father had also remained in his home country.
The difference in this case, Ms Whittle claimed, was that Kent had removed the child to care very quickly and he had remained safe.
Susan Jacklin QC, head of the Family Law Bar Association, said that owing to immigration there are growing numbers of cases involving Eastern European children in the family courts and care system.
Sarah Harman, a former family lawyer who campaigned for greater openness in the family courts, said this judgement was important, and showed the value of publishing information.
"Now all local authorities will realise what they have to do in these cases and know that if they fail, they'll be held to account," she said.
Sanchia Berg's report can be heard on BBC Radio 4's Today programme between 0700 and 0900 GMT.
Related Internet Links
The BBC is not responsible for the content of external sites.