No Thanet council challenge to High Court export ruling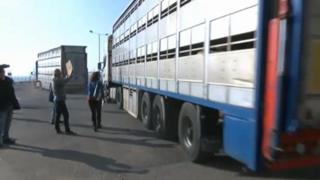 A council that was told it did not have the authority to suspend live exports from a Kent port after more than 40 sheep died while being transported has said it will not challenge the ruling.
The High Court ruled last month the ban imposed by Thanet council at Ramsgate port in 2012 was unlawful.
Councillor Michelle Fenner said the authority had taken legal advice on whether to appeal.
But she said the council could not take the risk of legal action.
She said the council's decision to impose a temporary ban was based on genuine concerns about the safety of staff and the fact the port did not have adequate facilities to cater for the welfare of animals in transit.
But the cabinet member for business, corporate and regulatory services added: "In light of the latest legal advice we have received, we accept that we cannot take the risk of challenging the judge's ruling in an appeal."
Earlier this year, High Court judge Mr Justice Birss said Thanet council's ban was a "disproportionate decision reached in haste" without receiving separate legal advice.
He said the move had breached a fundamental element of the rules governing free trade in the EU.