Crime concerns over streetlight turn-off in Kent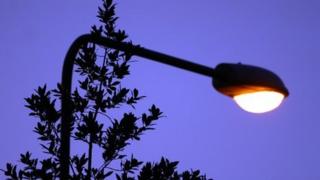 A scheme to turn off streetlights in Kent has attracted criticism from town councils, with claims that crime has risen as a result.
About 3,000 lights are being switched off, with a further 70,000 turned off between midnight and 05:30.
Sevenoaks, Dover, Gravesham and Ashford are among the places where Kent County Council's plan is already in force.
There are complaints that anti-social behaviour has increased, and a petition has been started in Swanscombe.
'Night shifts'
Mark Fittock is from Swanley Town Council and is also a Sevenoaks district councillor.
He said: "People have reported there has been tyre slashes and vandalised cars and various other anti-social behaviour occurring."
Mr Fittock added that residents felt they had not been consulted properly by the county council on the plans, which are aimed at saving £1m a year and reducing carbon emissions.
Angela George, also from Swanley Town Council, said residents had told her they did not feel safe at night.
Tim Prater, from Sandgate Parish Council, near Folkestone, said lights were turned off two weeks after the consultation started.
'Common sense'
David Brazier, of the county council, said: "Our approach has always been a common sense one - we don't need to light streets when they are not being used.
"We are not utterly adverse to considering turning the lights back on if it will make people more comfortable, but it won't make a difference to crime though."
Lights were first switched off late last year in Dover, Gravesham and Ashford.
The scheme was extended to Dartford in January and then in February to Shepway, Tunbridge Wells and Sevenoaks, with Maidstone and Thanet also due to be included in the scheme.
Kent Police was unable to comment on whether there had been an increase in crime in the areas.