Manston Airport: Roger Gale says 'potential buyer' found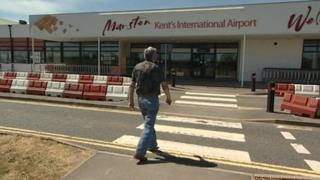 A possible new buyer has been identified for a Kent airport threatened with closure, an MP says.
Loss-making Manston Airport was bought by Ann Gloag, who co-founded the Stagecoach Group, for £1 in October.
She said she planned to make it "successful and vibrant" but last week 144 airport staff were told of a 45-day consultation on its possible closure.
Roger Gale, Conservative MP for Thanet North, said he believed he had found a "reputable" new buyer.
Mr Gale said he was being "very careful indeed to not raise false hopes".
'Reputable and experienced'
Speaking to BBC Radio Kent, he said: "I have spoken to a huge number of people and I have identified a willing buyer.
"I have met the potential buyer, but in order for there to be a deal there has to be a willing buyer, an agreed price, agreed terms and a willing seller.
"In the next few days we may find out if that has been achieved."
Mr Gale refused to give any details of the potential buyer.
"I believe them to be reputable, I believe them to have experience and I believe them to have the money but I have no proof of any of that," he added.
Dutch airline KLM started running two daily return flights from Manston at the beginning of April 2013.
In July the airport revealed a 40-year vision as part of its submission to the government commission looking at airport expansion in the South East.
Manston said it could be handling five million passengers a year and 400,000 tonnes of freight between 2015 and 2025.