Poetry of Penshurst Place owner's ancestor cited in housing dispute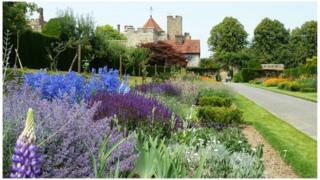 An Elizabethan poet's work has been cited in court in a bid to prevent one of his ancestors from building homes in a small village.
Viscount De L'Isle, a descendant of poet Sir Philip Sidney, wants to build six affordable homes at Penshurst, near Tonbridge, Kent.
Planning permission has been granted but a campaign group has appealed the decision at the High Court.
James Strachan QC said the development would "forever alter" the village.
'Found inspiration'
Mr Strachan was speaking on behalf of the Forge Field Society, which is seeking a judicial review of Sevenoaks District Council's decision to grant planning permission.
He said the viscount, who owns stately home Penshurst Place, was acting in a "feudal manner".
"[Penshurst has] the great fortune of being one of those relatively rare villages where that sense of history and the intrinsic beauty of the surrounding area can still be experienced today," he said.
He added that Sir Philip "no doubt found inspiration in the area for works such as Arcadia", and when urging the judge to quash permission, said he should draw on the poet's words that "beauty can give an edge to the bluntest swords".
Mark Leader, development director at West Kent Housing Association, has described the Forge Field scheme as a response to a local need for more affordable housing.
The case will be heard over two days.