Call for fresh advice on powers to tackle 'legal highs'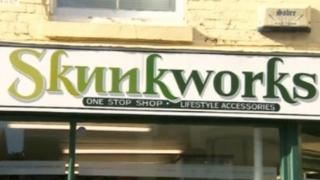 The government is being urged to issue stronger advice to local councils and judges to use existing powers to stop the sale of so-called "legal highs".
Julian Brazier MP has been campaigning for the closure of the Skunkworks shop in his Canterbury constituency.
He thinks councils could use laws under the 1972 Local Government Act which may empower them to take out injunctions against shops selling the substances.
The Home Office said it would look at any existing options.
Mr Brazier met Home Office minister Norman Baker on Thursday to push for new restrictions on the sale of legal highs, which have resulted in a number of deaths and serious injuries in the south east of England.
'Dangerous substances'
He said: "Two pieces of legislation give powers to both councils and to the weights and measures authority to take out injunctions against things that can be damaging to the consumer."
The legislation empowers councils to take any proceedings "for the promotion or protection of the interests of the inhabitants of their area".
Mr Brazier wants the government to issue guidance to local councils and judges to use the powers.
Mr Baker said: "I sent out guidance to local councils at the end of last year on how they can deal with 'head shops' and some of what Julian wants is, I think, contained in that.
"But we'll look at what he suggested and see where it takes us."
He added that a review panel was currently looking at how the damage to "all users of these dangerous substances" could be minimised, and recommendations would be issued.
In a statement, Canterbury City Council said it worked within the law and was unaware of any legislation which meant it could take action against premises such as those selling legal highs.
"If the law changes, or the guidance changes, we will of course look at this again and respond accordingly."