Harjit Chaggar death: Son breaks down in court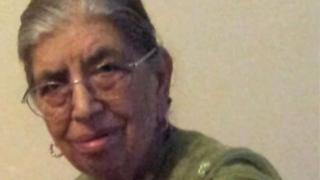 The son of a woman whose body was found in a Kent shop basement has broken down in court as he described the moment he realised she was missing.
Harjit Chaggar's body was found in the store in Chatham on 14 September, 12 days after she was last seen.
Kuldish Chaggar said he had tried to phone his mother and became concerned when she did not answer. He then visited her house but it was empty.
Three men deny murdering the 69-year-old widow.
Abdul Hannan, 44, and Murshed Miah, 38, from Maidstone, and Mohammed Liakat Islam, 28, of Gillingham, also deny preventing Mrs Chaggar's lawful burial, along with a fourth defendant, Rasad Miah, of Chatham.
The jury at Canterbury Crown Court was shown CCTV of Mrs Chaggar's movements leading up to her disappearance on 2 September.
Mr Chaggar told the court on Wednesday that his mother had planned to go to India on 20 September to visit family, and was also planning on setting up a foundation in India to feed the poor.
'Heard nothing'
Breaking down, he said: "On the day she went missing I telephoned her in the morning and again at about 17:30/18:00 before going to the temple but there was no response.
"I then visited my mother's house about 18:30/19:00 but she wasn't there. I shouted out 'Mum' but heard nothing."
After searching the house and trying Mrs Chaggar's friends, he reported her missing.
Mr Chaggar told the court he had tried to retrace his mother's footsteps and asked shop owners if they had seen her and whether they had any CCTV.
He had leaflets printed and asked shopkeepers along Luton Road to put them in their windows.
On Tuesday, Bobbie Cheema QC, prosecuting, told the jury that Mrs Chaggar was still alive when she was thrown down a hatch into the basement of the Sani Globe Food Store and was left to bleed to death.
Mr Chaggar told the court that he had visited the Sani Globe Food Store with a photo of his mother.
He said he asked if the man there knew her and the man replied that he had seen Mrs Chaggar outside the shop, but that she did not come in that day.
Mrs Chaggar's body was found after a smell underneath the floorboards at the grocery store was investigated.
The court heard her injuries were similar to those sustained in a serious road collision.
Her handbag and jewellery were missing, Ms Cheema said.
Sani Globe was described as a grocery and butchers which supplied local restaurants.
It was run by Mr Hannan and his brother Murshed Miah, Ms Cheema said.
Rasad Miah also worked there and Mr Islam was a butcher there, she said.
A post-mortem examination suggested Mrs Chaggar's injuries were consistent with being thrown into the basement while still alive.
The trial continues.