Fort Burgoyne: Dover fortress transferred to Land Trust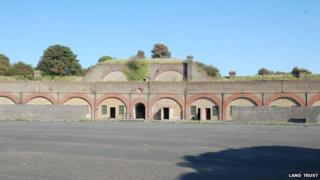 The ownership of a fort built to protect Dover Castle has been transferred to a charity.
Fort Burgoyne was built in 1861, at a time when when forts around ports and naval bases were being strengthened across the country.
Originally known as Castle Hill Fort, it never saw action and has never been open to the public.
Its new owner, the Land Trust, said it would discuss how the site should be managed with local communities.
The 104 acres (42 hectares) of land was previously owned by the Homes and Communities Agency.
Matthew Bradbury, the charity's operations director, said: "We have lots of exciting ideas about how we will manage the fort, but we are very open-minded and are really looking forward to working with the local community and to hearing their thoughts.
"The most important thing is that the fort continues to be part of what makes Dover unique and special, and that the local people feel involved with managing the fort in a way that they haven't been able to before."