Protests as Ramsgate live animal exports resume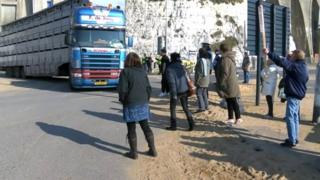 Protesters have campaigned against live animal exports after shipments resumed at the Port of Ramsgate.
Exports had moved to Dover but problems with a berth there led to the shipments resuming from Ramsgate.
Gill Clark, one of the demonstrators, said two lorries carrying sheep passed through Ramsgate on Monday.
She said there were about 30 protesters on roads near the port, about 40 at the port itself, and a police van.
Ms Clark said the animals spent between 18 and 27 hours on the lorries and campaigners were determined to keep the "cruel" trade in the public eye.
The RSPCA said it had inspectors at the port after it was invited by Thanet District Council and the harbour master to monitor the welfare of the animals.
RSPCA spokesman David Bowles said: "It is concerning that Ramsgate is apparently once again to be used to ship live animals intended for the meat trade on the continent when there are no emergency facilities at the port should the animals need to be unloaded."
Thanet District Council had banned the shipments after an incident in 2012 when more than 40 sheep died, but the ban was later overturned by the High Court.