Chiddingstone Castle to reveal its WW2 secrets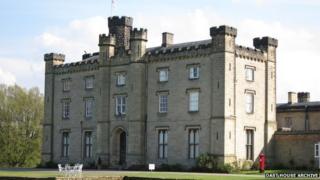 Signatures left by soldiers stationed at a castle in Kent during World War Two are to be shown to the public for the first time.
Chiddingstone Castle, near Edenbridge, served as base for military forces, and the troops left their personal marks on the flag tower stairs.
They will be on view, along with the castle's Victorian domestic quarters, in an exclusive tour on 16 March.
The Grade II*-listed building dates back to the 16th Century.
It used to be a medieval manor house, but over the years it has undergone a number of architectural changes.
The High Sheriff of Kent, Henry Streatfeild, rebuilt it to resemble a gothic-style castle in 1805.