Ramsgate live animal exports to resume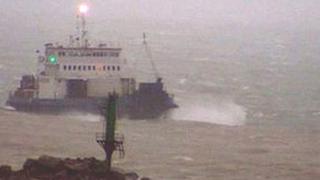 Live animal exports are to resume from the Port of Ramsgate in Kent on Monday.
The exporter, which operates the vessel the MV Joline, had switched operations to the Port of Dover to cut down on the time it takes to cross the Channel.
However, repairs to a berth means it has to return to Ramsgate, where live exports were banned in 2012 following the deaths of more than 40 sheep.
The ban by Thanet District Council was later overturned by the High Court after three Dutch companies appealed.
Sheep drowned
Thomas Lomas, director of Kent company Channel Livestock, admitted transporting animals in a way likely to cause undue suffering and last month received a suspended prison sentence.
Two sheep drowned in the incident at Ramsgate on 12 September 2012, which led to 40 more having to be destroyed.
The animals had to be put down after the lorry carrying them was stopped at Ramsgate by animal health inspectors.
In a separate accident, a loading area floor collapsed while more than 500 sheep were being taken off the lorry, and six fell in the water.
Four were rescued by RSPCA officers.