Maidstone hospital halts procedure after five deaths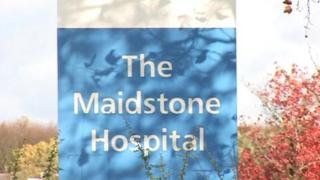 Potentially avoidable surgical complications could have contributed to the deaths of five cancer patients, a Kent NHS trust has admitted.
All five died between 2012 and 2013 after undergoing upper gastrointestinal (GI) key-hole surgery at Maidstone Hospital.
Maidstone and Tunbridge Wells NHS Trust said it has halted the procedure and apologised to the affected families.
Patients needing the surgery are being sent to St Thomas' Hospital, London.
The trust is facing legal action over one of the deaths, according to the Kent Messenger newspaper.
'Make improvements'
The incidents, which came to light following a trust-commissioned Royal College of Surgeons review of the procedure, have been referred to the General Medical Council (GMC).
In a statement the trust said: "While the outcomes for patients who had this surgery were within expected levels, including one and three years' survival, surgical complications may have contributed to the deaths of five patients in its care during 2012-13.
"These were associated with the use of laparoscopic techniques and were potentially avoidable."
It said it had conducted its own internal inquiry and that "while members of staff have been held to account, their overall standard of practice does not support further sanctions".
Medical director Dr Paul Sigston added: "We are sorry that some patients did not receive the level of care and treatment that they should have due to potentially avoidable surgical complications.
"We are in contact with, and have apologised to, the families who have been affected and have been clear that we need to make improvements.
"Our first priority is to our patients and the actions we have taken will ensure the quality of care they receive is of the highest possible standard while improvements are made to address the findings of this review."
Patients will be transferred to St Thomas' Hospital for upper gastrointestinal (GI) key-hole surgery for the next 12 months while the trust tries to make improvements.